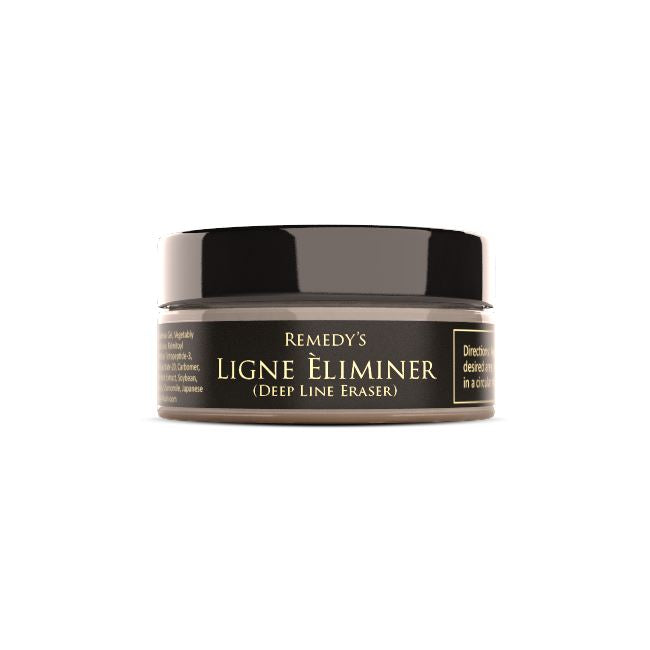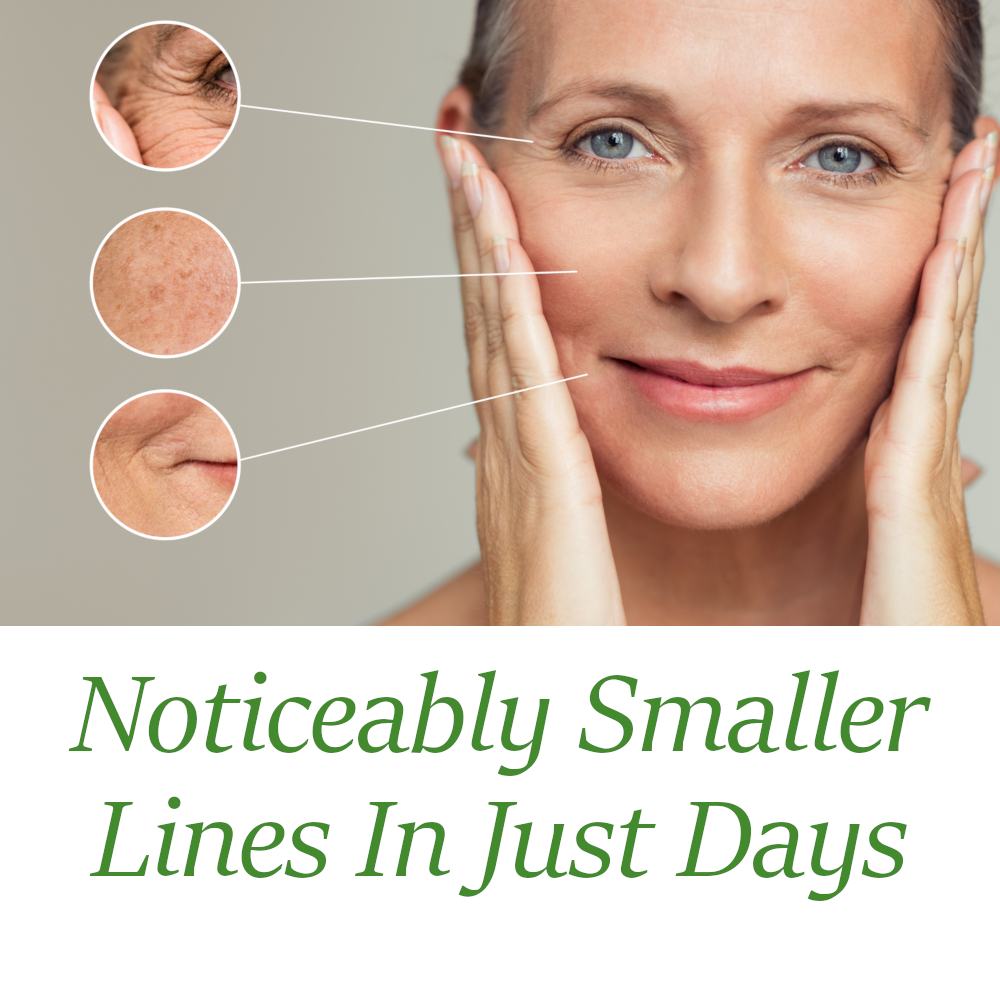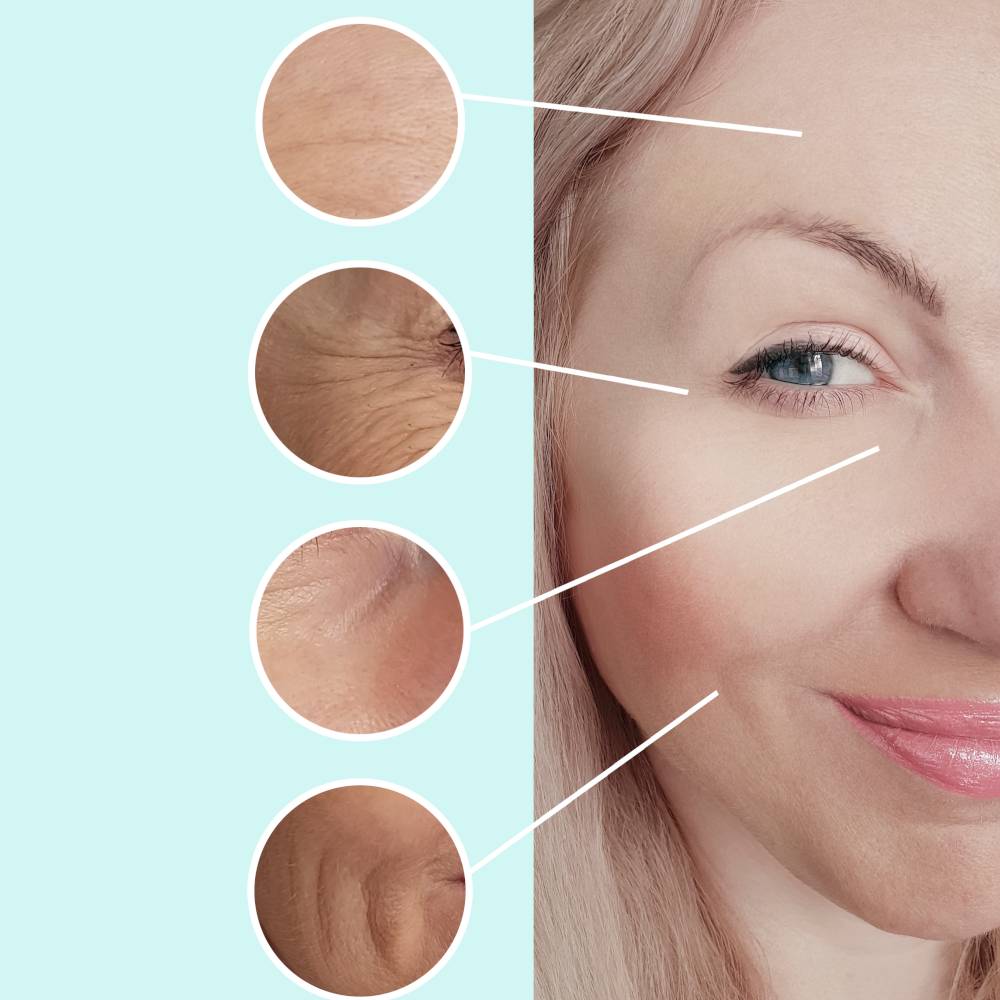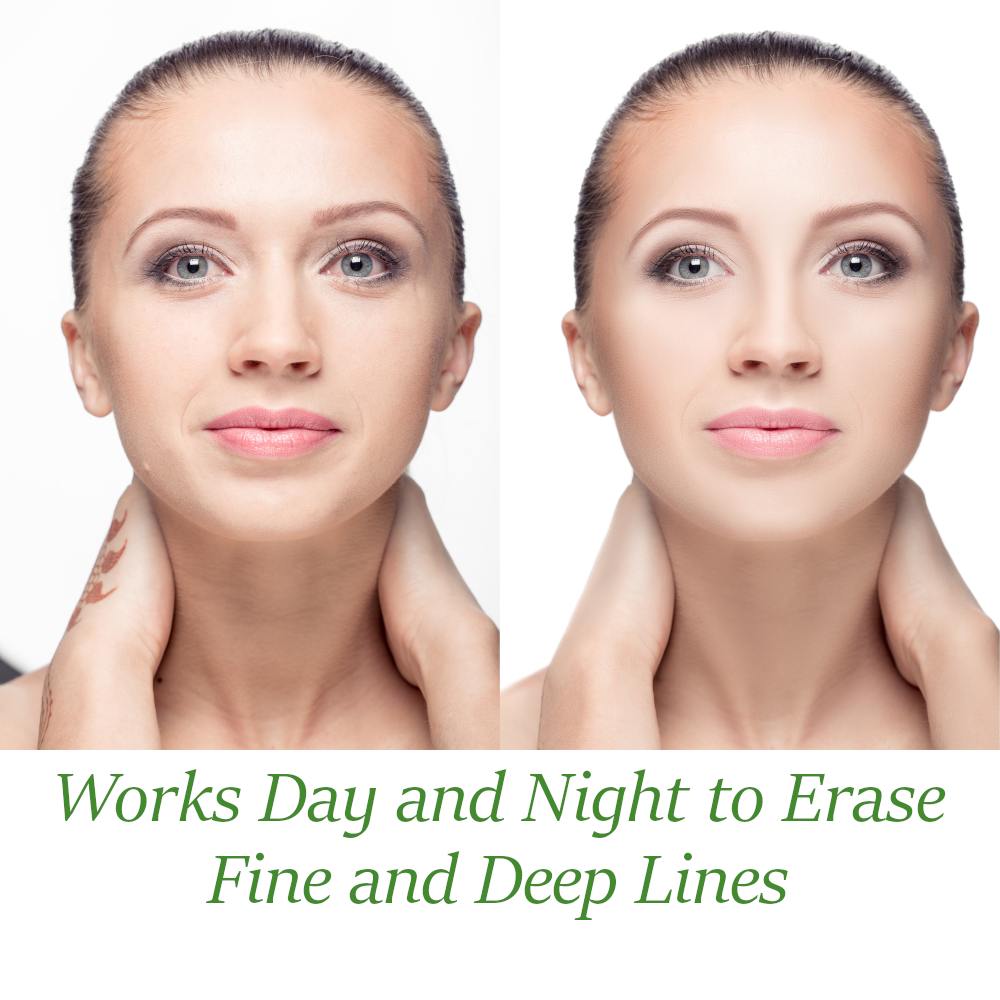 Ligne Èliminer - Deep Line Eraser
WE PROMISE YOU A SECURE CHECKOUT
Learn all about Ligne Èliminer Deep Line Eraser
We are so confident that this product is above the rest that we say: compare this product with Creme de La Mer (a high-end, expensive face cream).
This all-natural removes deep lines in the face over a 2-4 month period with a twice-daily application. The cosmetic properties have PAL-GHK and PAL-GQPR which reinforces firmness and tone around the eye area.
Chrysin and N-hydroxysuccinimide promotes the elimination of blood originating pigments from under the eyes. These blood pigments are responsible for the dark circle colors.
This includes peptides, which are typically used in face firming products and to tighten skin. You can increase these peptides with either the Fine Line or Deep Line Wrinkle Reduction Complex.
In addition to Aloe Vera and Vegetable Glycerine, Cucumber Extract is included for its soothing and conditioning properties, with anti-inflammatory and tightening abilities.
With the base elements of the Seaplex Fine Line Complex (slightly less lipopeptides) there is the inclusion of 3 other ingredients. Soy Extract, Wild Yam and Guaraná and it is designed for more mature skin. Each ingredient has a strength, which is why we combine many ingredients in all of our complexes to cover a wide range of skin types and the various changes.
This Amazing Deep Line Eraser Contains:
Soy Extract
Soy isoflavones are most potent of the antioxidant phytoestrogens; supports elasticity and firmness, helping keep skin soft and flexible as is needed when rebuilding damaged collagen.
Wild Yams
Act as a natural peptide that mimics dehydroepiandrosterone (DHEA) in the skin. As one of the building blocks of the body, improved DHEA levels have been correlated with improved sense of well being, reduced body fat and improve skin tone and moisture, although many associate it with menopause. It is a powerful anti-inflammatory that helps speed tissue regeneration resulting in normalization of damaged skin.
Guaraná 
Is a creeping shrub native to the Amazon (and particularly the regions of Manaus and Parintins). In the lushness of the Brazilian Amazon where it originates, it often grows to 40ft high. Outside of its popularity in a drink, Guaraná's therapeutic activity and use as a stimulant comes from xanthine alkaloids (caffeine, theophylline, theobromine) where caffeine alone has been shown to facilitate fat loss and reduce fatigue. Guaraná has been used in body care products for its tonifying and astringent properties, and in the treatment of cellulite for its lipolytic and vasodilation** actions. The use of this in the Seaplex blend is intended to reduce puffiness around the eyes and excess fat under the chin and neck areas.
** vasodilation: the opening up of the capillaries of the skin in response to warm temperatures or stimulation , thus increasing the flow of blood to the surface of the body.
Grape Extract
Rich in flavonoids, phytochemicals that have antioxidant properties like vitamin C and vitamin E. Antioxidants are believed to prevent and control numerous ailments by safeguarding cells against the ravages of unstable oxygen molecules called free radicals. 
Japanese Green Tea
Reported to fight damage from excessive sun and environmental damage. Primarily this ancient asian plant has ability to prevent free radicals from damaging cell structure further. 
Wild Mushroom
A natural astringent shown to improve skin tightness and firmness as it diminishes the appearance of pores. 
Cucumber
Is a natural astringent and helps tighten pores. Contains potassium, silicon, and sulfur. Imparts a soothing feeling. Commonly used in skin care products as an anti-inflammatory, an excellent skin-soother and skin-conditioning ingredient. 
Acqua Biomin®
Ocean minerals containing high concentrations of Selenium, Magnesium, Copper, Zinc, Calcium, Germanium intended to replace these necessary minerals depleated through daily environmental exposure.
Ingredients
Deionized Water, Dioscorea Villosa (Wild Yam) Root Extract, Glycine Soja (Soybean) Sterols, Palmitoyl Pentapeptide-3, Cucumis Sativus (Cucumber) Fruit Extract, Vitis Vinifera (Grape) Fruit Extract, Fucus Vesiculosus (Bladderwrack), Saccharomyces / Sea Mineral Ferment (Acqua Biomin®), Paullinia Cupana (Guarana) Fruit Extract, Chamomilla Matricaria Flower Extract (Chamomile), Vegetable Glycerine, Camellia Sinensis (Japanese Green Tea) Leaf Extract, Hydrolyzed Wheat Protein, Ganoderma Lucidum (Mannentake Mushroom) Extract & Lentinus Edodes (Shiitake Mushroom) Extract & Algae Extract. Aloe Barbadensis Leaf Juice, Glycerin, Cucumis Sativus (Cucumber) Fruit Extract, Chrysin, Palmitoyl Oligopeptide, N-Hydroxysuccinimide, Palmitoyl Tetrapeptide-7, Palmitoyl Pentapeptide-3, Steareth-20, Polysorbate- 20, Carbomer, Phenoxyethanol and Caprylyl Glycol (Optiphen®). 
Guaranteed Results or your money back
Zero-Risk, Satisfaction Guarantee 
FAQ
When should I take Vitamin Supplements?
It is best to take supplementation as directed. As a rule with breakfast, lunch and dinner is best. Take supplements that assist with sleep 20 minutes before bed. Be careful not to take high amounts of B-vitamins or stimulants before bed. In addition, if a condition continues for an extended time, a week or more, or if you feel severe pain, see your healthcare professional immediately.
Is Remedy's Nutrition really better than other Supplement Companies?
Please, stop for a moment, take a deep breath, and absorb this information. No filers, no additives, no binders, no GMO products, 50 years of experience, high-quality and fairly supplements, 1000 mg capsules, every product is based on at least 7 clinical studies, custom nutrition, cold pressed supplements, made fresh daily, and at least 15 university degrees behind the Remedy's name. Yes! We are that advanced and offer amazing Vitamin Supplements and Pure Personal Care items, from our family, to yours.


Shipping: How long until I get my product?
We normally ship within 24 hours. If you desire faster shipping, please choose expedited shipping at checkout or call 305-396-7028. We will do our very best to assist in whatever way possible
What if you do not have the specific product I want in stock?
Please call 305-396-7028 and we will find a comparable, if not superior product, in stock. With almost 400 product in stock and an additional 250 products in our arsenal we can improve on any products that are mass produced, because we care.
Shipping
Fast shipping
Depending on where you live, the time it may take for your exchanged product to reach you, may vary.
To return your product, you should mail your product to: Remedy's Nutrtion100800 Overseas Highway, Suite #1, Key Largo Florida US 33037


Order tracking
If you are shipping an item over $75, you should consider using a trackable shipping service or purchasing shipping insurance. We don't guarantee that we will receive your returned item.
Get in touch
Need help choosing a Supplement or Personal Care Product? Our friendly staff is waiting to answer your questions with helpful advice.
Key Largo: 305-396-7028
Miami Lakes: 305-400-8920
mananger@remedysnutrition.com

About us
Our Products
Our standards are the highest in the industry. We use "00" Vegetarian Capsules with no additives, fillers or binders. Always use grade A Superior or above quality herbs, minerals and oils. We believe you will not find better quality and pricing. Take time to see what, how much and most importantly the quality of what you purchase. Just as important our herbs are never stored in a warehouse in heat or sever conditions.
Pricing
The majority of our products contain 100mg of herbs and minerals. Take a moment and think of the cost of a 250 mg product and multiply it times 4. The savings range form 50% to 100% savings. Far too often, advertising drives the buyer and not the quality and quantity of the product. We guarantee our products for 30 days and as long as they have not been exposed to external conditions.
When to see a medical professional.
The diagnostic tools of modern medicine are impressive. Far to often overmedicating can cause further health issues. However, seeing a trained and licensed professional has its place, especially in diagnostics. Remember as medical professionals we are your employees. You have the right to ask as many questions and dictate your healthcare.